EpIC Conference

EpiGene3Sys meets INC-Spain to ChromDesign the Genome
Register here!
How to register
There are NO registration fees! A registration is only possible via the EpIC registration form, in which you can also indicate if you wish to give a poster and/ or oral presentation and participate in a social activity.
About the conference
We are happy to announce «EpIC – EpiGene3Sys meets INC-Spain to ChromDesign the Genome» a joint conference by the three networks EpiGene3Sys, ChromDesign and INC-Spain that will take place from 17-20 October 2022 in Granada, Spain.
We look forward to gathering this broad community and discussing our common interests and latest discoveries on how epigenetics and genome organisation impact gene regulation and cellular trajectories during development, differentiation and disease.
In the spirit of EpiGene3Sys, ChromDesign, and INC_Spain, the conference will aim to cover a wide variety of topics such as epigenetics in physiology, molecular biology, transcription, evolution, and disease; genome architecture, cutting-edge technologies, and data representation that intersects biology with design.
We invite you all to register and submit an abstract to share your research with the community. In line with the core aims of these three networks, we support the scientific development and career evolution of young researchers and the conference will highlight their research discoveries. We will prioritise the selection of abstracts from PhD students, postdoctoral fellows and young team leaders.
To allow the participation of everyone, the conference will be held in a hybrid format.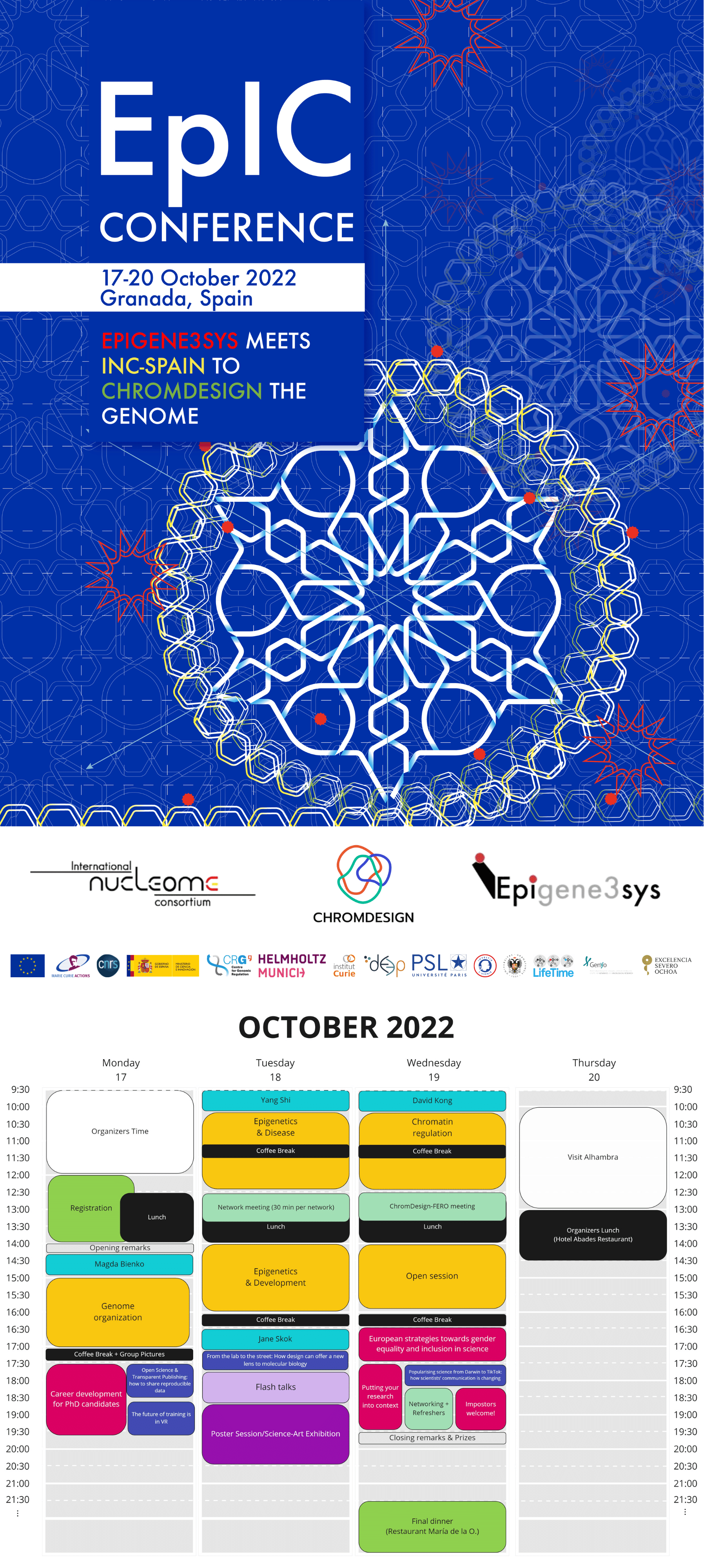 Keynote speakers
Magda Bienko
Human Technopole (Milan, Italy)
Department of Genomics &
Karolinska Institutet (Stockolm, Sweden)
Laboratory for Quantitative Biology of the Nucleus
Yang Shi
University of Oxford
Ludwig Institute for Cancer Research
Jane Skok
NYU Langone Medical Center
NYU School of Medicine
Accomodation
We secured 200 rooms in three different hotels in the area. Prices range from 74-87€ for single and 88-97€ for double rooms including breakfast.
Participants are asked to get in touch with the hotels as soon as possible to do the reservation. Further information will be provided after the submission of the registration.
Organisers

ChromDesign is a MSCA-funded interdisciplinary training network, which aims to train and connect the next generation of researchers of chromatin biology, aiming to understand genome organisation in 3D space and in time in development and disease. The participation of a designer as member of our network has allowed us to find innovative ways to share our research with the scientific community and the public.

After the success of EpiGeneSys and its follow-up EpiGene2Sys, the community is starting a new cycle as EpiGene3Sys. Funded by the CNRS as an International Research Network, EpiGene3Sys gathers a vast community of researchers in Europe with a common interest in the broad field of epigenetics. By combining disciplines and cutting-edge technologies, we aim to understand how the epigenome regulates cellular trajectories in development, differentiation, tissue homeostasis and disease.

INC-Spain is the Spanish network of the International Nucleome Consortium funded by the Science Ministry of Spain. The network has the goal of coordinating the efforts of a large number of research groups in Spain interested in 4DNucleomics sciences. INC-Spain is associated with the INC COST action, which aims to establish a worldwide community of cooperation among multi-disciplinary nucleome scientists to accelerate scientific breakthroughs leading to new concepts, innovative interdisciplinary approaches and realistic applications for health, agriculture and industry.